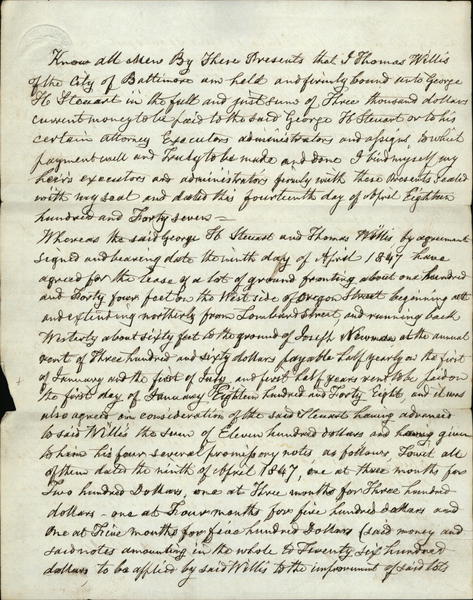 Description:
1847 Baltimore Maryland (MD) Contract document
Contract for property and houses. GEORGE STEWART THOMAS WILLIS are mentioned. Winhauer Spinner is a witness.

The name of George H. Steuart (instead of Stewart), is also likely referring to a famous Confederate Civil War general from Baltimore, George H. Steuart (1828-1903) who was a Confederate brigadier General or his father Major General George H. Steuart (1790-1867) served during the War of 1812 and also during the Civil War as a militia general who ordered Maryland's militia troops to fight the Federal troops in some of the first action of the Civil War. Very interesting piece of history. The younger Steuart led troops at battles at First Bull Run, Shenandoah, Cross Keys, Gettysburg, Payne's Farm, Wilderness, Spotsylvania, Petersburg, and Appomattox.